Accreditations
Learn about our certifications and how we can support you
We are ISO 27001 and ISO 22301 accredited (Integrated Management System)
At Secure Agility, we are ISO 27001 and ISO 22301 accredited, confirming our commitment to ensuring that our customer data is protected. Read the press release here.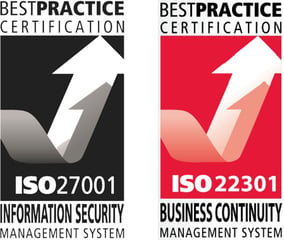 What this means for you
To our customers, we commit to the protection, integrity and confidentiality of your data whilst ensuring availability of this data which is held within our managed services and support systems. Customer information securely held and protected includes, but is not limited to Network information, financial details, contact details, contracts and non-disclosure agreements.
To pursue the policy, we shall:



Ensure that all information, including internal, third-party, personal and electronic data, is treated with complete confidentiality




Maintain integrity of all such information




Ensure that our information system and the information contained meet the needs of our core and supporting business operations




Comply with all applicable statutory and regulatory requirements




Safeguard security of our information assets through effective business continuity management




Make information available with minimum disruption




Increase staff awareness of information security management through education and training




Perform reliable access control to protect our information system against unauthorised access
Under this policy:



All breaches of information security, actual or suspected, will be reported to and investigated by authorised persons on the IMS team




The IMS team is responsible for documenting and maintaining the Integrated Management System




Information Security and Business Continuity documents not limited to Policies and Procedures, will be made available online through an intranet system to support the IMS




All line managers shall implement the policy within their departments and ensure that every staff member adheres to the policy




This policy has been approved by the Board. It will be reviewed, and if necessary revised, annually to keep up to date and will be released on our company website

Contact us today!
Fill out the contact form below if you have any more questions about our accreditations or how we could support you today.