SDwan4
SDwan to the power of fourTM
Choose how you secure your WAN edge
At a glance:
For


Multi-site organisations looking to enhance their traditional network architecture to a next-generation software-defined approach.


Government agencies and companies who must meet rigorous compliance oversight.
Who Need


Greater network control and reduced complexity.


Reduced cost of their WAN environment.


Rapid deployment and scalability options.
We Offer


SDwan4 – powered by Cisco Meraki, Cisco Viptela or Fortinet to provide a choice of solutions.

Seamless and secure integration of SDwan4 to your existing environment.

Delivering You


A centralised SD-WAN that ensures a common WAN edge and end-to-end security framework.
Cisco and Fortinet's market-leading portfolio of SD-WAN solutions meets the myriad of requirements for the most demanding of situations. We deliver a managed WAN as a service that is customised to meet your business requirements—whether for multi-site State government, Federal government agencies or Enterprise customers.
Business focussed SD-WAN solutions that meet performance, compliance and budgetary constraints.
Regain control over your entire network infrastructure with centralised management and visibility.
SDWan4 features rapid scalability, adaptable design and is fabricated to support your current and future demands.
Gain greater visibility and enhance the experience of SaaS-based applications from your WAN edge.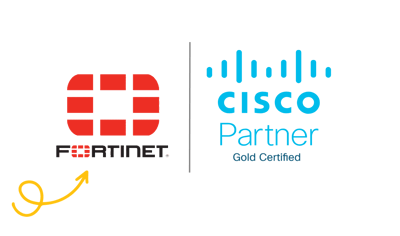 Why Choose Cisco - Our CTO Explains
Customer Case Study: Success with Secure Agility
Read how REMONDIS gained secure, available infrastructure with a more modern end-user computing environment and more applications for collaboration.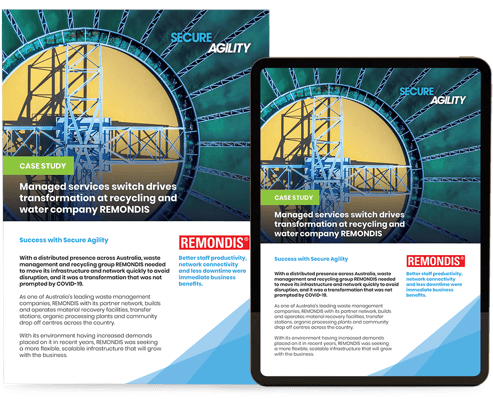 Key features - let's discuss what is best for you
Core SD-WAN demands can be identical: network service availability and affordably priced. When you drill down, other considerations come into play: rapid deployment, high-availability, granular control or one-touch simplicity.
SD-WAN for Small or Medium business with minimal intervention and Cloud based administration.
Cisco Meraki
Meraki redefined management simplicity and Cloud deployment ease with their "zero-touch" administrative tools and resources.
Security
Centralised management combined with an intuitive administrative interface ensures that all users are protected from cybersecurity threats irrespective of location or device.
Resilience and Fault Tolerance
If your business needs always-on network availability Cisco Meraki's failover and self-healing features will increase availability levels and improve your overall risk posture.
Automate
Cisco Meraki infrastructure is designed for low-touch environments where availability is critical, but staff resources are limited.
Intuitive Web Management
Web-based management tools make it simple for administrators to solve almost every challenge quickly and easily. For organisations who partner with a Cisco partner like Secure Agility, sharing network information is easy and can be integrated into a comprehensive managed service.
Fast, scalable, and flexible for cloud-​first, security-sensitive, and global enterprises.
Fortinet SDWAN

Organically developed software paired with an ASIC accelerated performing platform to deliver a comprehensive SD-WAN solution
Improved User Experience
Application driven approach provides broad application steering with accurate identification, advanced WAN remediation and accelerated cloud on-ramp for optimized network and application performance.
Accelerated Convergence
Industry's only organically developed purpose built SD-WAN ASIC powered enables thin edge (SD-WAN, routing) and WAN Edge (SD-WAN, routing, NGFW) securing all applications, users and data anywhere.
Efficient Operations
Simplify operations with centralised orchestration and enhanced analytics for SD-WAN, Security and SD-Branch at scale.
Natively Integrated Security
Built-in next-generation firewall combines SD-WAN and security capabilities in a unified solution to preserve the security and availability of the network.
Customer Case Study:
Read how implementing a SD-WAN helped a major Australian commercial property company accelerate their staff productivity and reduce network management and costs.


A data centre to the power of 4

SDwan4 is a new generation service that is delivered from Secure Agility's OurDC4 environment. OurDC4 is built in Australia's most secure data centres and combines 3 renowned partners in Cisco, Pure Storage and Rubrik, with Secure Agility into one unique capability.